On this page you can find my latest bass fishing reports for the various bodies of water I guide at.  You can find the guide for what the scores mean at the bottom of the page.
Also, if kayaking is your thing, click here and check out "Inflatable Kayak Reviews" to find a free downloadable guide discussing some of Texas's most epic places to kayak!
Belton Lake
06/17/17 – The fishing is actually pretty good right now if you can happen to find one of the few patterns that are actually catching fish.  If you don't have just the right magical recipe of location and presentation though, it can be downright tough.  The right recipe though can sure produce quite a few fish!  One of the best things you can do to just simply get bites right now is to flip/pitch to shallow cover in pockets (aka: drains) off of the main lake with a Bass Pro Shops Baby Crack Craw.
Big Bass Score = 2; Numbers Score = 2; Total = 4
Inks Lake
09/04/17 – The last few trips have been a little spotty.  A couple of big ones caught, but overall, pretty tough.  Catching a few on a topwater popper early in the morning around shallow rock, and then later in the day getting a few bites on a River2Sea Bully Wa II fished around emergent vegetation.
Big Bass Score = 2; Numbers Score = 2.5; Total = 4.5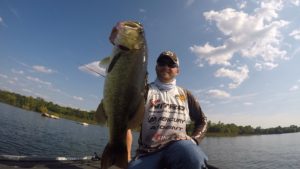 Lady Bird Lake (AKA: Town Lake)
9/16/17 – The fishing seems to be slowing down a bit overall, but it is decent.  The drop-shot rig with a finesse worm fished around offshore structure continues to be the best option.  Also have been having fair success with a jerkbait around shallower rock.
Big Bass Score = 3; Numbers Score = 3; Total = 6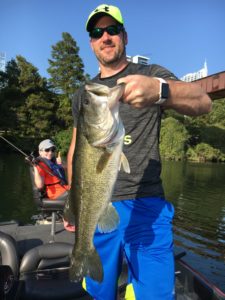 Lake Austin
08/09/17 – We found some decent success fishing jerkbaits and spinnerbaits around large shallow rocks initially, but once we found some clearer water, we spent most of the time sight-fishing for cruising bass with a drop-shot rigged finesse worm.  If you can believe it, we actually pulled one off of a nest as well.  Not uncommon at all for the upper end of this lake this time of the year though!
Big Bass Score = 2; Numbers Score = 2; Total = 4
Lake Bastrop
07/29/17 – Chasing bass schooling on shad on the surface continues to be the dominant pattern on the lake.  If you aren't chasing these nomadic schools, it's very tough fishing right now.  Shoot, even a lot of anglers chasing the schooling fish would argue that it's tough fishing.  These schools of fish tend to get pickier and pickier as the summer goes on, and that is certainly the case now.  I see boats with hundreds of fish jumping all around them constantly and they never manage to catch a single one.  My most productive lure continues to be various types of jerkbaits.  With proper technique, this bait will easily catch the most fish.  Without proper technique, you'll never even get a bite on it though.
Big Bass Score = 1; Numbers Score = 5; Total = 6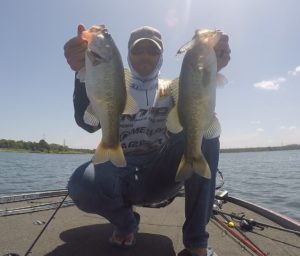 Lake Buchanan
4/22/17 – The fishing is a little on the slower side right now, but you can still certainly catch some bass right now.  Try to take advantage of the early morning bite with topwater baits around shallow cover and structure.  Once the early morning bite dies, the fishing gets tougher as the day goes on.
Big Bass Score = 2; Numbers Score = 2; Total 4
Lake Georgetown
9/20/17 – Introducing the debut report for Georgetown!  I having been putting in some time on this lake and am excited to start offering guided trips out here now.  Good numbers of bass can be caught on the lower end of the lake by targeting bass chasing shad on the surface.  Keep your eyes peeled for bass breaking the surface and fire a shad colored jerkbait at them as quick as you can when they surface.  This can provide plenty of action, but most of them will be a little smaller.  I've had some good success for bigger bass by running up lake and finding dirtier water.  Fishing shallow in this dirty water with a PowerTeam Lures Bull Nose Jig and a River2Sea Bling Spinnerbait.  A buzzbait early in the morning in the dirtier water can get some good fish as well.
Big Bass Score = 2; Numbers Score = 2; Total = 4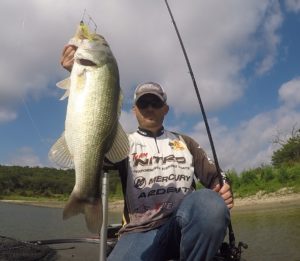 Lake Lyndon B. Johnson
08/12/17 – Fishing is generally tough.  You can catch a bunch of undersized and smaller keeper bass by throwing a drop-shot rigged finesse worm around deeper structure right now, but finding bigger bites is a bit more difficult.  The best success I've found there is throwing a River2Sea Bully Wa II around boat docks.
Big Bass Score = 2.5; Numbers Score = 2; Total = 4.5
Lake Travis
09/19/17 – Only got in a quick couple of hours this evening, so I don't have much info.  I did pretty well though catching several keepers on a River2Sea jerkbait on shallow windy points.  Seems like the bite is good overall right now for numbers of bass.  Big ones, probably not so much.  Hopefully I'll have more to report on this lake soon.
Big Bass Score = 2; Numbers Score = 2; Total = 4
Lake Walter E. Long (AKA: Decker Lake)
07/29/17 – Fishing continues to be tough, but I do feel like I have found a successful pattern recently.  Fishing a suspending jerkbait over submerged vegetation seems to be the deal out here right now. There is some sporadic schooling action taking place around the lake as well and if you can manage to get on some of those schooling fish while they are feeding, you can load the boat in a hurry.  As always, flipping a weightless senko in the reeds will also get you some bites if you do it long enough.
Big Bass Score = 3; Numbers Score = 2; Total = 5
Stillhouse Hollow Lake
08/18/17 – The fishing is kinda so-so right now.  There is some pretty good fishing for the first 1-2 hours in the morning if you can get on the right spots first thing in the morning.  My best success has been with using a Bass Pro Shops Speed Shad near deep grasslines first thing in the morning.  After that, I've done best with fishing a Texas-rigged PowerTeam Lures Tickler along deeper grass lines and just being patient for those bites.
Big Bass Score =2.5; Numbers Score = 2; Total = 4.5
"Score" Guide / Key: The score is comprised of two areas – odds of catching a big bass and odds of catching lots of bass.  I rate each area on a scale of 1-5.  Read the definitions below as: odds of a big bass (number of fish).  These scores are based on a full day (8 hours) of fishing.  Numbers of bass are based on the number of bass over 14″ in length and does not include smaller bass which can be much more numerous during a trip.  Here's what the scores mean…
1 = Odds are slim to none (0-4 fish in the boat)
2 = Meh, probably not going to happen, but I wouldn't be totally surprised if it did (5-8 fish in the boat)
3 = Yeah, it could happen, but it could also totally not (9-12 fish in the boat)
4 = Odds are good, but I won't be entirely surprised if it doesn't happen (13-20 fish in the boat)
5 = It's on!  The odds of there being at least one 5+ pound bass put in the boat are very good. (20+ fish in the boat)
Therefore that gives a lake a possibility of 10 total points.  If you ever see me score a lake as a 10, that means you better book your trip right now because it's on fire!  A perfect score of 10 will almost never happen, but be ready if it ever does! A "big bass" is considered a fish over 5 pounds.
Austin Bass Fishing Guide
Austin Fishing Guide